Your Local Shredding Service Company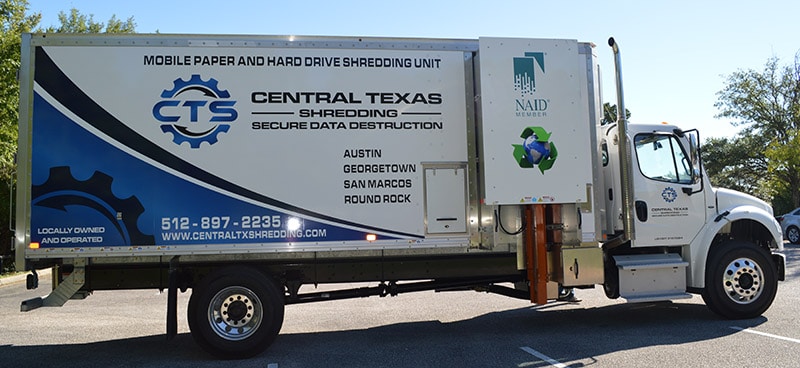 Central Texas Shredding is a mobile shredding services company based in Austin, TX and provides paper shredding services to clients in the Georgetown, Round Rock, San Marcos, San Antonio, and surrounding areas. We can help your company take care of all your secure shredding needs.
Death of a Document: Shredding Services
It's a fact of the document lifecycle: Records are born, and records must die.  Businesses just need to make sure they give their vital records a proper, secure send-off when that time comes.
Just because a document has outlived its usefulness to you, that doesn't mean its usefulness to those with bad intentions has worn off—the information in your records is still a potent weapon that can be used against you, so following proper procedures in destroying records you no longer need is an important part of any records management plan.
Your Local Shredding Company
Our shred experts can provide you with the best shredding services in Austin, Georgetown, Round Rock, San Marcos, San Antonio, and surrounding areas.
When you choose Central Texas Shredding, you'll be in the hands of trusted industry veterans who have more than 30 years of security experience. Our level of quality service combined with in-depth industry knowledge gives us the ability to make customized recommendations to ensure a shredding solution that meets your unique needs.
Shredding Services We Provide
We understand the regulations and problems that affect businesses like yours. At Central Texas Shredding, we are dedicated to providing you with the highest quality services for the following shredding options:
Our founder, Tim Henning, holds the CSDS designation from NAID, meaning that he successfully achieved the highest personal accreditation that an individual can attain in the information destruction industry.
The CSDS accreditation was designed by NAID to promote and acknowledge an individual's competency in a range of subject areas related to the secure destruction of information and the secure destruction of other items.
Why Should You Shred?
According to Texas Law, any documents or items that contain confidential or personal customer information must be shredded before they can be disposed of completely.
Identity Theft & Fraud
With identity theft, fraud, and other types of hacking on the rise, secure shredding provides the most complete protection possible. This gives both your staff and your customers the peace of mind that their information is safe and secure.
By maintaining a consistent Scheduled Shredding Plan you can ensure that every document is kept safe and destroyed by trusted professionals.
Regulatory Needs
We have proven solutions for all of our customer's needs, and this includes being compliant for all major privacy-related regulations.
From healthcare clinics and hospitals bound by HIPAA regulations, financial institutions regulated by GLB, we have the experience to help serve your company's data dispensation needs. Whether you shred with us weekly or only a few times a year, we bring HIPAA, FACTA, SOX, and GLB-compliant document destruction to your doorstep.
Which Shredding Service Is Right For You?
All of our shredding  services are backed by industry-leading standard operating procedures. Your confidential information will always be kept safe. Your privacy is our top priority.
Please click one of the following service options from below to learn more about how we can support your unique needs:
Give us a call or complete the form on this page and let us know how we can help you. We look forward to hearing from you!
Our Certifications & Associations